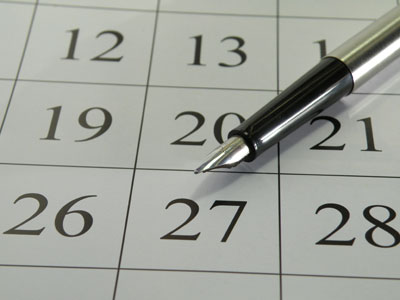 2020 Broadcasters' Calendar 2020 Calendar of Important Dates for Broadcasters - View 2020 Calendar Here!

We are about to embark on what will no doubt be an incredibly busy year for broadcasters. With the Presidential election in November, stations will be consumed with issues that arise from that election, both in their on-air programming covering all the news that it generates and in their advertising sales to the candidates and issue advertisers. With the election may come a change in administration at the FCC – and that may occur no matter which party wins. So current Commissioners may be looking to make their last indelible impressions on broadcast regulation before they go. There is likely to be plenty to keep broadcasters busy tracking these developments.
In addition, the radio license renewal cycle which began in 2019 continues with renewal applications due from stations in the mid-section of the US. June begins the cycle of license renewal applications for television stations as well. Stations in Maryland, Virginia, West Virginia and the District of Columbia will file their renewal applications by June 1, preceded by two month's announcements of the upcoming deadlines on the first and 16th of each month. TV stations in the Carolinas follow two months later, with stations in other designated states to follow every other month. The radio renewal cycle ends with the filing of renewals by radio stations in Pennsylvania and Delaware in 2022, and TV will end in the same states one year later.
But broadcasters cannot forget all of the other routine regulatory dates that will arise during the course of the year. Even though the FCC has, for the last three years, pursued a number of deregulatory moves, broadcasters for the foreseeable future still face a host of regulatory obligations. Each year, these obligations include the requirement to prepare an annual Equal Employment Opportunities ("EEO") public inspection file report, to upload to their public files quarterly issues/programs lists, and to pay annual FCC regulatory fees. Television stations have the extra burden of complying with requirements of the children's television rules and the filing of what is now an annual children's television programming report, the first one to be submitted in March. If they are providing fee-based nonbroadcast services with their digital spectrum, television stations must file an annual DTV Ancillary/Supplementary Services Reports (now known as FCC Form 2100 Schedule G, formerly FCC Form 317). Each year also brings its own distinct regulatory obligations, and 2020 is no different. The repacking of the TV band following the incentive auction is scheduled to be completed later this year, and repacked stations have a host of deadlines to meet – and requirements to file status reports on a quarterly basis. Biennial ownership reports, originally due in late 2019, now are to be submitted by the end of January.
For radio broadcasters who stream their programming on the Internet, there are required payment and reporting obligations for their music use. While the proceeding to set the rates that broadcasters pay for streaming music on the Internet for 2021-2025 will be concluded by the end of this year, regular SoundExchange royalties need to be paid every month. Stations also have obligations to pay ASCAP, BMI, and SESAC, and the newest performing rights organization, GMR. New agreements with BMI, SESAC and GMR could arise this year, as there are litigation or arbitration proceedings with each of these entities now ongoing. We suggest that you review your agreements with these organizations to make sure you meet all required payment and reporting deadlines and watch for developments in the litigation over these royalties.
To help keep track of many of the more general obligations, we have put together this advisory to provide a preview of, and some guidance for, many of the important FCC compliance-related dates, as well as other deadlines broadly applicable to significant portions of the broadcast industry. The attached calendar is not intended to cover all filing dates that apply to every station or licensee. Instead, the calendar is meant to highlight some of the more critical deadlines that we are able to identify in advance. Remember, these dates can change, and new deadlines for action can be added, so be sure to keep up with the latest developments.
The warning about changing dates is particularly true with respect to the dates for lowest unit rates for political elections in 2020 – particularly the Presidential primaries, which could change in the upcoming months. We have included the dates for the beginning of the lowest unit rate windows for each of the Presidential primaries and caucuses, which we believe to be accurate as of the date we put this calendar together. Also, be alert for lowest unit rate windows that may arise in your state for state and local elections as well as elections to the US Congress. We have not included all of those dates on this calendar – but be alert for them. We have included the date for the start of the lowest unit rate period for the November general election. But some municipal and special elections may be held at other times of the year, so be alert for those dates. Lowest unit rates begin 45 days before any primary, and 60 days before any general election (including municipal elections). While stations do not have an obligation to sell time to candidates for state and local races, once they decide to do so, all other political obligations arise. Federal candidates, like those running for president, have equal opportunity and reasonable access rights even outside the political windows. And all political sales, including issue advertising, triggers public file obligations.
It is also important to check with your accountant, tax advisor, and local counsel on dates for filings such as those relating to local business and real estate fees and taxes, filing dates for Equal Employment Opportunity Commission submissions for large employers, and other requirements that may be applicable to your station(s).
In our calendar, we provide a description of the obligation, the due date and the place where compliance is required (e.g., through an FCC filing, an addition to the public file, etc.). Note that broadcasters have an online public file obligation, and they must ensure that the required documentation (such as the annual EEO public inspection file report or quarterly issues/programs lists) is uploaded by the applicable deadline to the station's FCC-hosted online public file. The online public file makes all of these deadlines even more important, particularly with the ongoing license renewals, as interested parties (including the FCC) need no longer come to your station to review whether you have met your public file obligations. Instead, they can review it anywhere there is an Internet connection and assess your compliance with the various public file obligations. In 2019, we saw two stations fined $15,000 each for public file violations. Don't let your station be caught with an incomplete public file.
As the year progresses, there will no doubt be other compliance deadlines that arise. We try to provide information about many of these deadlines, and about other regulatory issues that arise during the course of the year on our blog: http://www.broadcastlawblog.com. Check our blog regularly or talk to any of the attorneys in our Broadcast Group for more information about the many deadlines and other issues that will be important to broadcasters in 2020.